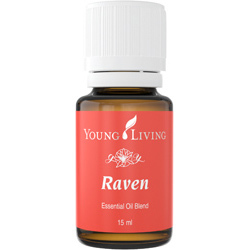 Young Living Raven Essential Oil
Raven™ is a combination of uplifting fragrances.
How to Use
For aromatic use. Diffuse or apply topically.
Possible skin sensitivity. If pregnant or under a doctor's care, consult your physician. Dilution not required; suitable for all but the most sensitive skin. Do not use on children under age 6.
Ingredients
Ravensara (Ravensara aromatica), lemon (Citrus limon), wintergreen (Gaultheria procumbens), peppermint (Mentha piperita) and Eucalyptus radiata.
P/s: Prices quoted in Retail pricing. For any wholesale prices, do contact us for more information.