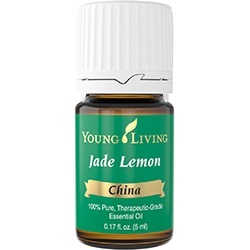 Young Living Jade Lemon Essential Oil - 5ml
Jade Lemon™ has a unique lemon-lime scent that is both pleasing and uplifting. Jade Lemon contains high levels of d-limonene. This oil supports skin health and is useful to clean, detox, and purify.
How to Use
Diffuse or apply topically.
Product Tips
Diffuse to uplift and stimulate the mind and body.
Add 10–15 drops to Young Living lotions and shampoos to energize the spirit.
Combine with sea salt, V-6™ Vegetable Oil Complex, Ylang Ylang, Peppermint, and Lavender to exfoliate the skin.
Use as a cleanser to remove stickiness or grease from surfaces; remove gum from hair; or remove crayon or permanent marker from walls.
Mix with Citronella essential oil for a pleasant, citrus-scented outdoor spray.
Add to dishwashing detergent for a spot-free rinse and to help clean your dishwasher.
Use 8–10 drops with water in a spray bottle to freshen the air.
Ingredients
JADE LEMON Citrus limon Eureka var. formosensis
P/s: Prices quoted in Retail pricing. For any wholesale prices, do contact us for more information.