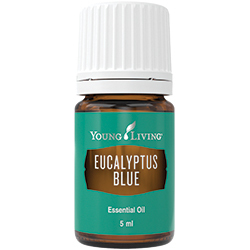 Young Living Eucalyptus Blue Essential Oil - 5ml
Eucalyptus Blue is grown and harvested in Ecuador. This essential oil contains high levels of the powerful constituents eucalyptol and alphapinene.
How to Use
Topical:Dilute one drop with one drop of V-6 or olive oil. Then apply to desired area as needed.
Aromatic:Diffuse up to 30 minutes three times daily.
Caution: Keep out of reach of children. If pregnant, nursing, taking medication or have a medical condition, consult a healthcare practitioner prior to use.
Storage: Keep in a cool, dark place.
Ingredients
EUCALYPTUS BLUE Eucalyptus bicostata
P/s: Prices quoted in Retail pricing. For any wholesale prices, do contact us for more information.